Register Company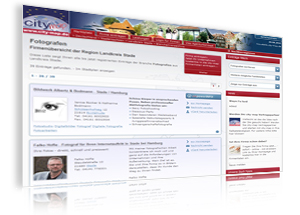 Market your business in city-map. Registration is now free-of-charge!
How to market your business with city-map:

Here is quick overview about the registrations and possibilities to place your business with city-map in the Internet...

more information ...

Register your business here in two minutres free-of-charge at city-map and we let you decide how you want to be found in the Internet!

start now...

What is city-map?

city-map is a virtual and current "Internet (city)map", organised by regions. The Internet user finds here not only road maps but also orientation about the Internet presentations of companies, which are available in the region. In addition there are other important information and pictures from the region, which can be downloaded via the Internet. city-map is different to other conventional search engines because we review all the information provided by the local people. This ensures high quality and topicality, which accommodates both the registered companies and users.

city-map pursues the "Vision 100 Percent", which means that all regional "Vision 100" local firms should be found by the user via branch lists.

To show 100 percent doesn't mean that all companies have to buy a registration; companies who already have a homepage can register free-of-charge.

In addition city-map offers numerous options to market homepages beyond the free-of-charge registration.
city-map offers individual solutions for businesses without homepage that range from low-priced newcomer programme to extensive application development.

more information ...